About last two months, we contacted BEAT, the IT manager of FORM AG, kreative Macher for asking the experience of using the SyncSign Display to serve for their room management. He replied to us "We are very satisfied, the two Displays worked perfectly."
It is so nice to hear that.
Why FORM chose SyncSign Display?
What benefits SyncSign Display has bought to FORM?
FORM AG, kreative Macher, found in Switzerland in 2016, adopts 2D and 3D technology to design the wonderful visual presentation according to their customer's demand. It provides customized services for various companies, shops and stores to show their products and stand out their brands.  Additionally, plentiful small or large events and exhibitions sponsors would cooperate with FORM to support them to hold the events or exhibitions smoothly.
With the scaling of their business, FORM provides design services with more and more customers. As we all know, the time of finishing a project is limited, so time is so precious for FORM team that they would attach importance to the working efficiency within limited time. To meet the customer's design requirements, their teams often needs to gather together to discuss and negotiate the details of projects, so it is common that there are many different meetings every day.
In FORM, there are three rooms, which are FORMLAB, GONDELI and FORUM. The number of the room is limited while their meetings are plentiful. Moreover, it is very common that staff have difficulty in knowing who would use a room at some moments. Hence, without coordinating the booking time between members ahead of time, it is unavoidable that the emergence of overlapping reservations. That would not only influence personal schedule but also disrupt the team's plan, thereby slowing down the whole team efficiency and productivity. More terribly, it would delay the project to some extent and then team fails to finish the project on time, which would impair the company's reputation and customer's overall satisfaction for service.
With so many meetings, how to have every meeting held at schedule in the limited rooms is the headache for FORM.
So that's reason why BEAT wanted a reliable room management solution. The solution could show and update the room status and future events in real time, which brings convenience to staff to know the room availability, optimizing the room space utilization to avoid the unplanned conflicts.
- Solution and Benefits -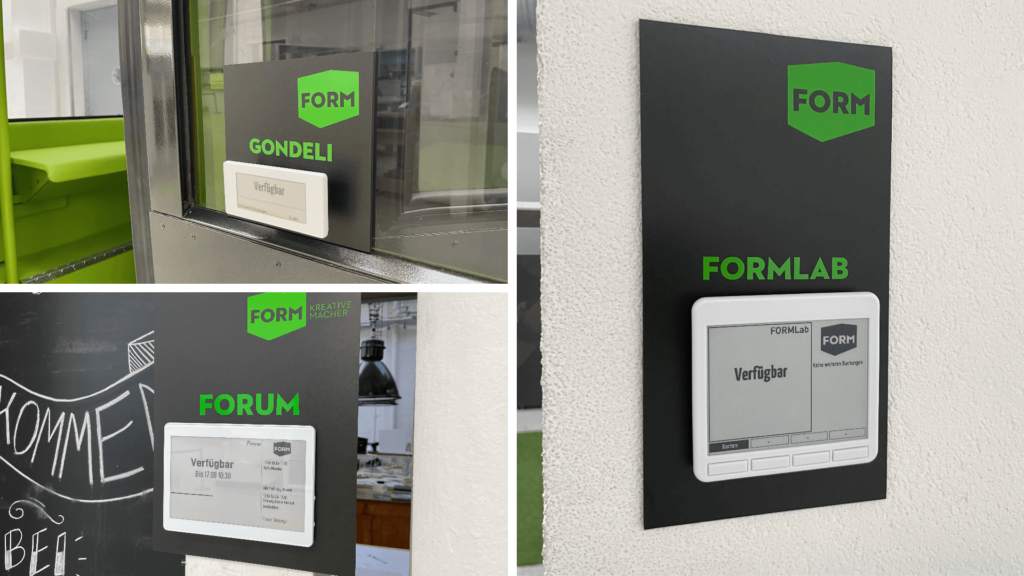 First, FORM favors the simple design, which looks very pretty in the workplace. Besides the aesthetic appearance, the Display is easy to install. You can see in the photos, the Displays were pasted on the sticker, and then the Display would be stuck firmly on the surface. Of course, mounting to a bracket is also a method that SyncSign provides.
Furthermore, as you can see in the following two photos, these two Display showed the room's status in real time for members, which facilitates FORM staff to identify whether a room was available or not as well as avoid other people walking into a room casually.
Additionally, there is another room that is specially offered to hold a daily forum in FORM. In order to let everyone know what and when events would be held in the FORUM room, so during finding the solution, they hoped the display could show more information they want to show as well. Hence, on the lower left photo, you could see the person's name (who reserved the room) , the topic of event and event time displayed on the screen. FORM team appreciated this customized service.
Moreover, due to the e-ink screen, these Displays only consumes the energy when information is changed on the screen. In other words, SyncSign Display needn't the continuous power supply within 1 year at least, so the feature of long battery life is very friendly and convenient for FORM staff. They needn't to check out whether the Display functions well or not and could focus on more important affairs without any concern. In short, peace of mind.
With SyncSign Display, it optimizes the room space utilization and maintain the workplace in good order. Meanwhile, staff can use the room when they want to use without worrying the meeting conflicts or they no longer feel confused that which room is available and then their schedules wouldn't be influenced, thereby enhancing the team efficiency and productivity to some extent.
Thanks to visualizing the real-time room status and future events, FORM team makes good use of their limited room resource, improving their office experience. That is permanent and firm goal for SyncSign: make space management easier. We will try our best to meet the various requirements from our customers.
Are you planing to better room management? Or Do you want to manage something well by visualizing some information in real time?
Get in touch with us to let SyncSign know your ideas. We are here for you and would provide customized solution for you as soon as possible!