Maybe SyncSign Display leave a deep impression as the digital calendar display to visualize the room status and future events. 
Well, we has been committing to better room management for our customers and has received much positive reviews from them. 
Like our customer from Israel, Ishai Plaksin installed the 7.5 inch Display on the wall in minutes to show the availability of conference room in real time, which not only leaves a trim appearance impression, but also avoids the meeting conflicts, thereby managing the room resources better and then enhancing the office experience.
Meanwhile, you could see the other photos in Gallery at our website, where you could know how our customers used the SyncSign Display with the basis of their different purposes.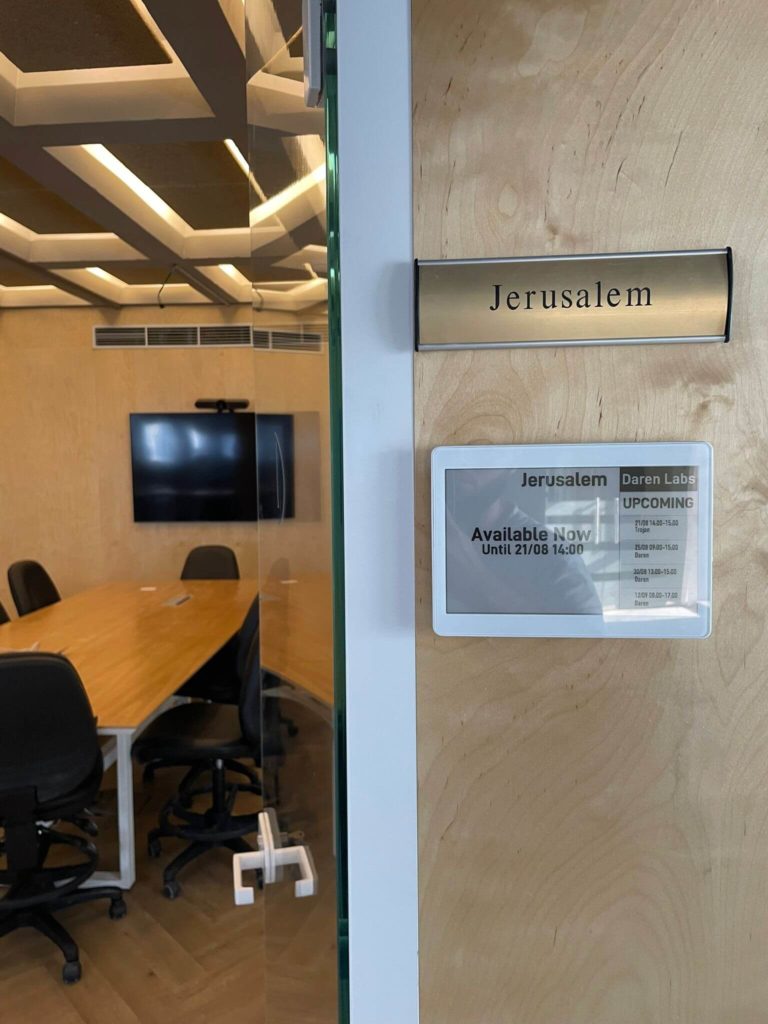 Do we only meet this kind of requirement? Of course not. For SyncSign, everything is possible. We could help our customers show the information they want to show. Through offering the open API document, we can makes the customization and integration with a 3rd party system possible. Users can choose cutomized information on the screen in a way they prefer. The following interesting story could tell you the reason why we are confident to say that. Let's get start it.
"I was to use a low power eInk display which wakes up in a defined schedule, checks whether there are new weather and indoor climate data and updates the screen if it's necessary. " Thomas Schenker said.
From Thomas' words, we can know his requirements are clear:
He wants an e-ink screen.
He hopes the weather and indoor climate data are showed and updated synchronously on single display.
Searching for a long time, Thomas came across our website and looked through our production description and documentation. After that, he considered SyncSign Display could make his idea come true. As he said, "there was what I was looking for – a display which is able to customize the content shown on the screen. Great!"
Actually, Thomas is the developer himself. When he knew the SyncSign open API can provide him the possibility to show the weather and indoor climate information on the single screen, with the programm run in his server, he chose SyncSign 7.5-inch Display as the part of his automation system, turning the e-ink Display into a dashbord. Then, he started to build their own backend to provide weather and indoor climate data for his desirable customize content. And how did we assist to solve Thomas' headache?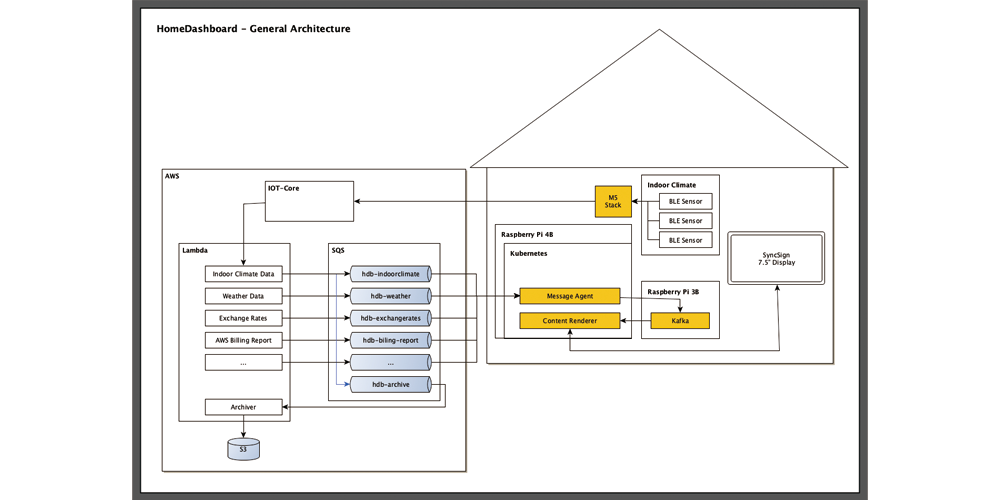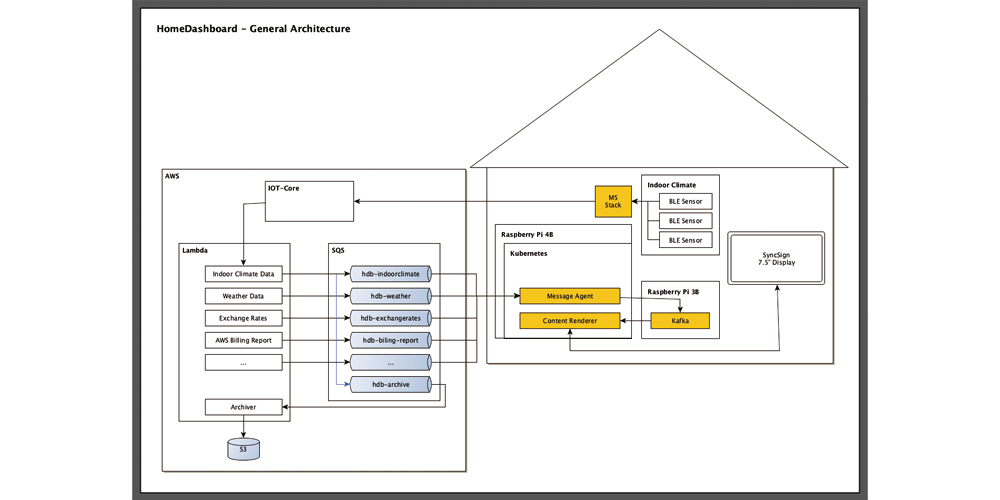 To achieve the Thomas' idea, his development team gave the comprehensive database support. Meanwhile, with the help of a small server, running on a Raspberry PI, it wires all this different templates and data together. On the basis of that, SyncSign provided the open API, which build a bridge between these data and SyncSign Display, thereby making the customize content shown on the screen possible.
Just you could see in the this photo, there are different sections on the screen: current weather, a 5-day forecast and indoor climate data. Besides those, the display shows the AWS costs based on their billing reports and a timestamp of last update as well.
In a word, with open API, we offer a unique and customized interface for Thomas, assisting him to display all information on the single screen. As he told us, "It is so friendly solution for developer. It frees me from manual assembling hardware and lets me focus on developing solutions."
After reading the Thomas' story, you might get a preliminary understanding about our Display. In order to let you know about it at a whole, this part would introduce the advantages of SyncSign Display.
Sync with existing calendar system: Office 365, Google Calendar, G-Suite (Google Workspace), MS Exchange.
Open API / SDK: besides the SyncSign API, we also provide the Hub SDK document. The Hub SDK is a software development kit designed to give developers access to the capability of SyncSign. You can find more in here.
Long Battery Life: With the e-ink screen, the Display only consumes the energy when information shown on the screen is changed. And it can be used for 1-year at least.
Easy to setup: Paste (or put) the display on the sticker (or bracket)
Secure System: All transmissions between Display and Hub are encrypted with AES-128. The connection between Hub and Cloud server are WPA2/WPA3/TLSv1.2 protected.
No matter Plaksin or Thomas, both of them are satisfied with the performance of our products. Through the above two customer cases, you could see that SyncSign Display builds a bridge between people and information. That means people could know the information on the display, thereby achieving the information exchange among people and facilitating them to know "things" quicker and clearer.
To make the real-time information display and update come ture, loT technology plays a crucial role. With the wide application of this technology, various industries benefit from it. Just like SyncSign, integrating with the technology, we serve for the managing the room resource better or showing something you want in real time.
Want to learn more details about our Display? Just click here. We are willing to hear your ideas.