With True Wireless Solutions
Place it anywhere to visualize meeting schedules, appointment information, action plans, and collaborative tasks, empowering teams to work more efficiently and make better use of the space.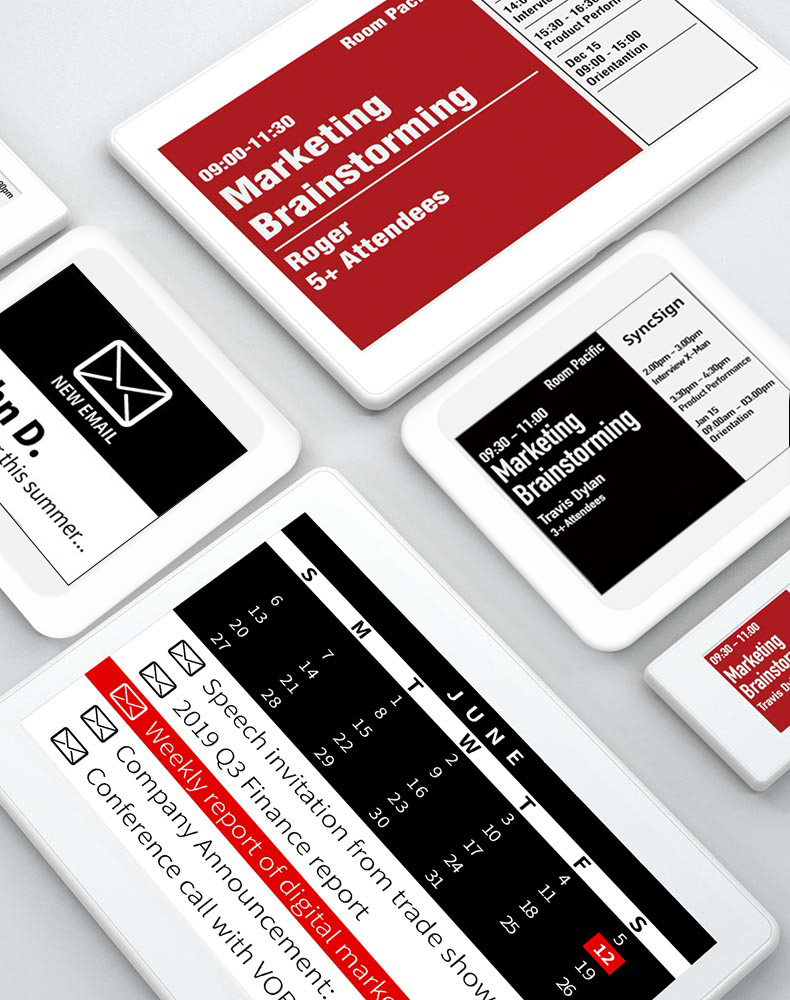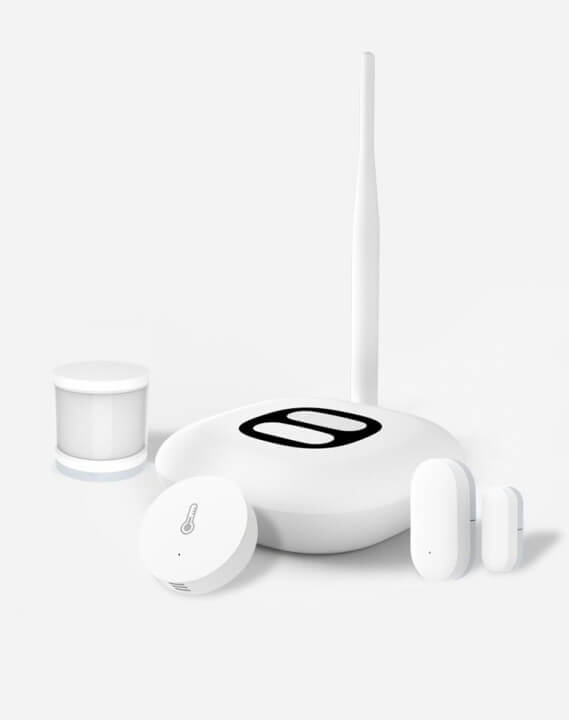 Easily deployable Occupancy Sensors and Climate Sensors can track meeting rooms, office workstation utilization and environmental conditions all-day. Use visual data to help making decisions.
Hassle Free Booking & Scheduling
Conference Room
Real-time Schedules Right at the Door
Prevent the confusion and frustration caused by double bookings and take advantage of every available room.
Co-working Space
Educational Venue
Gymnasium
Sync with Your Existing Calendars
Energy-efficient & Maintenance-free
Easy to Install - Just Like A Sticky Note
SyncSign can easily attach on almost any surface with the wall-mounted bracket and the super magnet on the back.

Sticker

Bracket
Select the layout templates we offered.
Customize your corporate branding or logo across all the devices.
The open API/SDK makes customization easier.
Immediate Savings with Measurements
One Size Does Not Fit All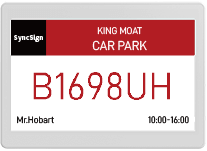 Designed to display more information in higher resolution.
Best for conference room signage display in the office, university, stadium.

As a price & specification board in an auto dealership or shopping mall.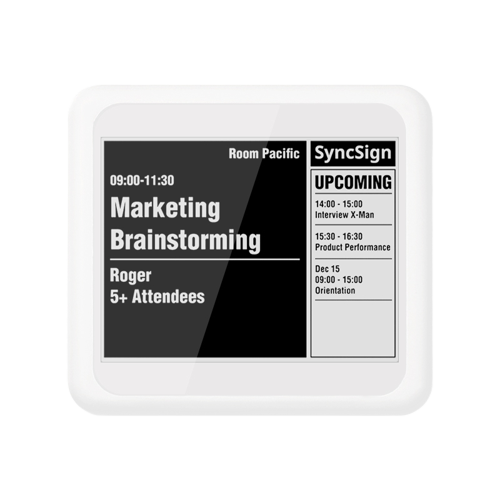 Recommended for small and medium-sized meeting room & classroom booking, scheduling and management. Or as a personal calendar board.
Comes with programmable buttons for feedback or simple input.

Perfect fit for 

desk reservation signage in co-working space.

As a price tag 

in the supermarket.

As an inventory tag or warehouse.
We will be offering at least one product line of SyncSign devices until at least 31/12/2030, and will be guaranteeing the same conditions in terms of the availability of core functions for this same period. This includes installation, configuration, start-up and operation (via various user interface devices, including selected smartphones). The way we will do this is by:
– offering SyncSign hardware and application plus a licensed cloud-based solution, and/or
– offering an On-Premise Server solution to be operated and purchased by the customer, and/or
– releasing the SyncSign related open source interface options for what will then be a generally available community solution.
Works Well in Many Scenarios
The Wide-ranging Application of Digital E-ink Display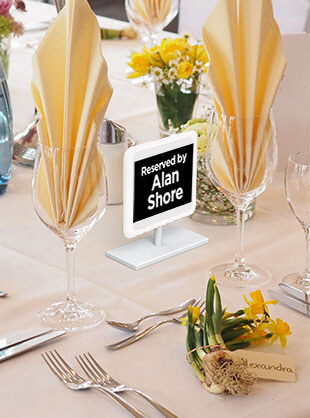 Restaurant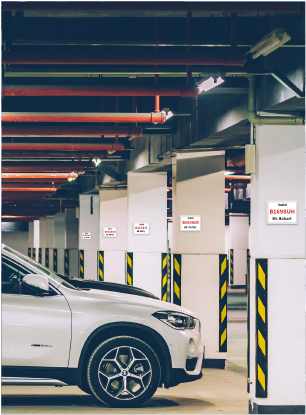 Parking Lot
- Our Clients & Partners -
WANT TO KNOW MORE ABOUT OUR COMPANY? CURIOUS WHAT ELSE WE DO?