SyncSign can provide OEM & ODM service to clients for various projects. The request might be versatile, but the core is to have the problem resolved. Turning challenge into chances.
Most of the E-ink Signage will need a management system to keep the information updated. While there might be some use cases that the management system for the signage is not necessary. Or put it more likely in this way, the cost of maintaining a content management system outweighs the benefit that it can bring. This calls out a solution that:
– Cost-effective: Need not a software management system, while easy for the user to update the content shown on the screen.
– Easy to install: "Put it, and leave it" would be fantastic.
– Long Battery autonomy time: Up to years battery life
– Content easy to read: It tells you something with its existence. And the message did deliver to the people.
For the small size store, quipped an IT staff just to maintain a few of the electronic shelf labels would be a bit costly. Sometimes the clerk does all the work in the normal scene. Thus an ESL that requires no tech-savvy knowledge, easy for clerks to manage, would be an ideal value-added improvement for the store.
Easy to adopt with the sales strategy: According to the traffic, purchasing group, habit buying, the price of the same product might need to change from time to time.
We choose the 4.2-Inch E-ink Display as the carrier of this duty.
– Easy to manage: Just press the button to change the content.
– Easy to read: The numbers and characters are big enough for the clients to recognize from the other side of the counter.
– Easy to install: Actually no need to install it. Just place it on the side of the goods, then it tells you something about the price.
– Super long battery autonomy life: Battery-powered, can last more than 3 years.
– Eco-friendly with technical touch: The E-ink paper will provide the client with a feeling of the eco ideology of the whole store, while maintaining the keep up to the tech pace.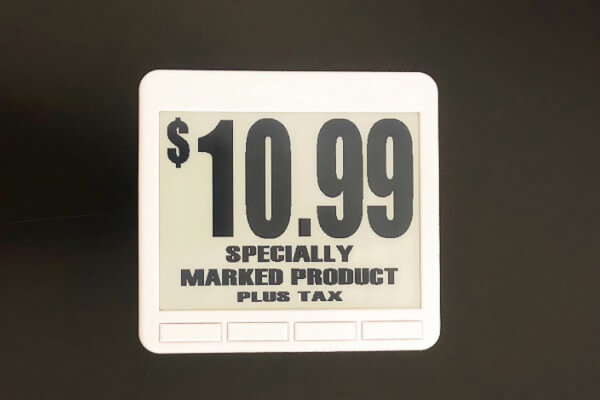 We've already had up to 32 sentences to into the Display:
– PER DEVICE PLUS TAX
– PER PACK TAX INCLUDED
– SPECIAL PRICE PLUS TAX
– WITH LOYALTY CARD PLUG TAX
– …
A central-management system is not needed. Every single press trigger one change. And the change happens instantly, enabling the user to confirm the update is correct.
How to change the content?
It is very simple,
– The screen was divided into 5 areas.
– With one button, the value will be added.
– With another button, the updating area will move to the next one.
In short: Press, then update.
Besides 4.2-Inch Displays, 2.9-Inch and 7.5-Inch Display is also available, suitable for various needs.
Have a project in mind?