Nowadays, many companies are accustomed to add a meeting affair and meeting place in advance on an existing calendar system. However, they still confront with the annoying meeting conflicts, which is the headache for many companies. 
With the pursuit of optimizing room resources with high efficiency and convenience, many companies are looking for a solution that improves the conference room management. 
Today we will talk about the challenges that many companies are facing. Meanwhile, we would make contrast between several present methods and help you choose the best solution for better room management.
- Without a Meeting Room Signage -
It' s common that a single meeting room or multiple ones are shared by different departments, so it is unavoidable that someone feel confused whether a meeting room is available or not. Or Someone has to enquire other colleagues about meeting room reservation of the day. What's more, someone sees there are other people in the meeting room even though he had reserved the room in advance.
As we can see, meeting conflicts are the headache between different departments. If they don't make internal coordination with every department ahead of time, it would lead to double reservations and meeting chaos, thereby influencing each team's schedule and working efficiency. Furthermore, if neither side inclines to make a compromise, it is detrimental to develop a harmonious relationship and more terribly, it would slow down whole team's productivity to some extent. So is there a solution that could remove staffs' confusion: who has booked the meeting room? When a meeting room is available?
Hence, is there something visualizing the real-time room status to help staff find a proper room at a proper time. Otherwise, your valuable time would be lost in the midst of finding a room,  when you could have completed more important things.
- Paper Sign and Tablet -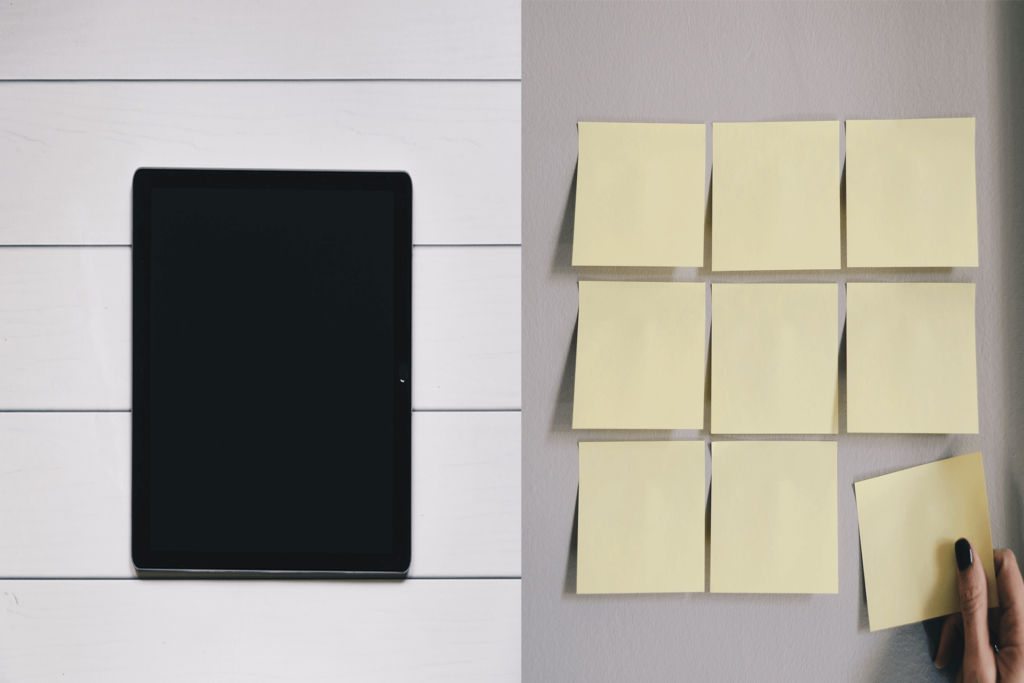 Maybe you would say sticking a paper sign nearby the door to show the meeting schedules can solve the problem. However, it lacks of timely information update and people need to replace it repeatedly, which is very troublesome. Based on that, you might choose a tablet as a room signage. It is much better than a paper sign obviously in terms of synchronizing the room schedule but it needs a continuous power supply for function. In other words, it needs complex installation with wires.
Above all, is there a solution with real-time information update as well as wireless installation?
- the Benefits of E-ink Digital Room Signage -
The solution is adopting a signage solution that
– shows the meeting room status synchronously
– is easy to install
– has long battery life
Well, above all, the e-ink digital room signage is the ideal choice. Staff can know quickly the real-time room status by just glancing at a display. Meanwhile, it facilitates staff find a proper meeting room at the proper time quickly. The reservation information will be updated and be showed on the display simultaneously when they book a meeting room.
It is a cost-effective solution for company
It don't be invested too much money and is time-saving to install. At the same time, because of the e-ink technology, the low power consumption technology, it has long battery life so you needn't to employing extra administrator for regular maintenance. In other words, facility manager doesn't have to charge the displays in 1-2 days or worry if the screen might fail because of the battery was run out.
Furthermore, it optimizes the conference room management to some extent as well as creates an modern office environment. By doing so, it would maintain good order in the workplace and improve the room space utilization.
It is beneficial for member and team
Moreover, staff just spend several minutes in reserving a meeting room and they can pay more attention to more important affairs. Meanwhile, it ensures team meeting is held at schedule. The personal schedule of each member wouldn't be disrupted, thereby boosting the team working efficiency and productivity to some extent.
Staff can reserve a meeting room easier
With a meeting room display, staffs can see the information including whether a room is available, future events and ongoing meetings. Staff would not longer have difficulties in finding a proper meeting room at a proper time. They can book a meeting room smoothly before meeting, which makes the better booking experience for them as well as contributes to using the meeting room with high efficiencyd
Integrated with an existing calendar system, SyncSign Display can show and update the meeting room status synchronously. Just like our customers, they has gotten the benefits once for all by using our digital room signage.
We has solved all kinds of our customers' problems. 
Worthington Libraries has changed their working method from paper room sign to digital room sign, which streamlines staff's workflow as well as improves room resource management.
RELAIS & CHATEAUX has installed the digital room displays to help them facilitate meeting room management. People could know the room status and reserve the room quickly by just glancing at the information showed on the display
Luna Labs USA has improved communication efficiency and strengthen the connection between staffs and CEO. By showing the real-time CEO's time schedule, it help his staffs choose proper time to discuss something with CEO.
As you can see in these cases, our customers just invested a little money but our solution brings them much obvious change and convenience in the workplace as well as create a smart office environment with IoT technology.
Now that you know why you should need the E-ink digital signage for meeting rooms, you might want to learn more about that. Or you are going to plan to perfect meeting room management as well. Just contact us now and let us know your needs.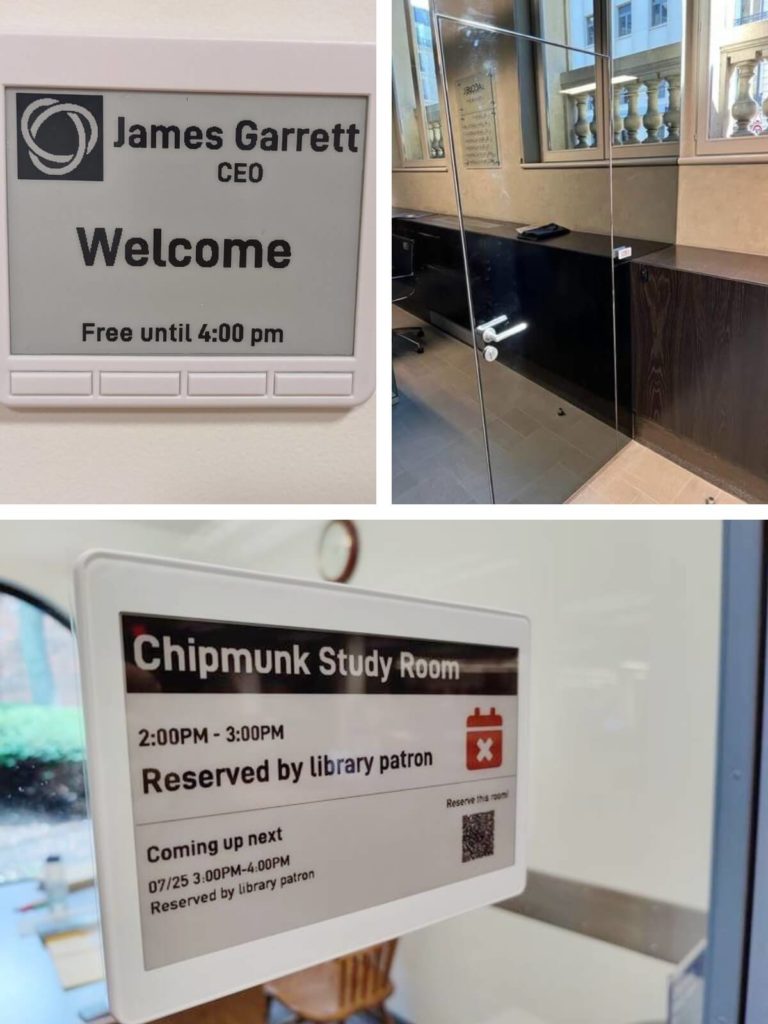 - What SyncSign Can Do for You -
Is SyncSign only committed to optimizing the room management? Of course not! We are dedicate to simplifying anything. Just like at our next article, we will introduce how clinic software integrates with SyncSign Display to show the patients' appointment information.
So if you want to synchronize the real-time information and facilitate people to know about them at any time, we are here for you!